Last Updated: November 1, 2023
RC cars are one of the coolest inventions of the 20th century and today many people have bought these (either for themselves or their kids). Either you are a beginner or an experienced player, this review of the 10 best RC cars will introduce you to some really popular remote control car models of 2023 – both assembled and un-assembled.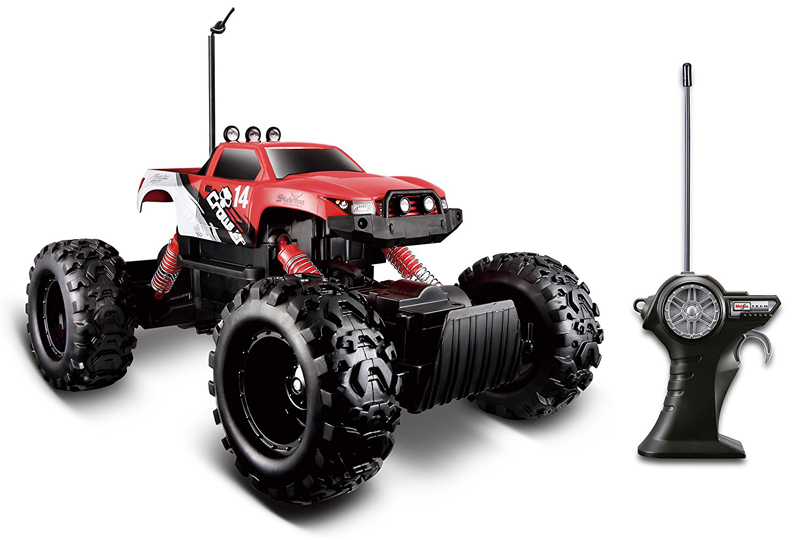 Maisto is one of the most popular brand of RC cars. The Rock Crawler remote control car has over 2000 plus reviews on Amazon and most of them are positive thus making this model one of the best RC cars available. The main features of this car is that it delivers a power packed performance and has two motors, low gears and TPE tires.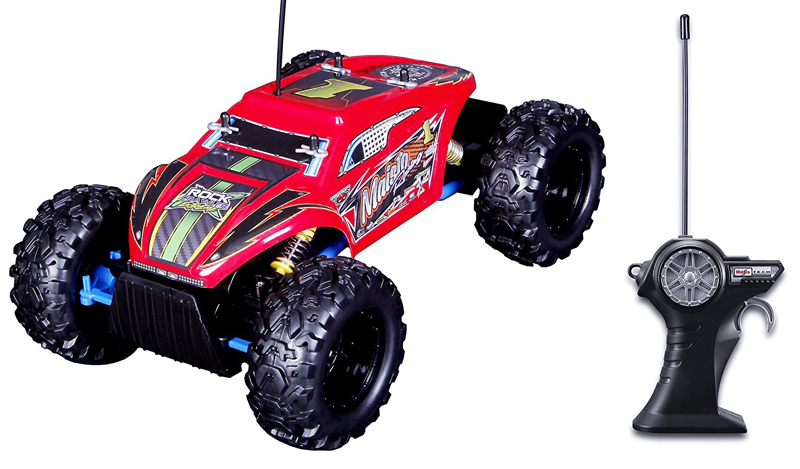 Rock Crawler Extreme is one of the best RC car by Maisto. The features that set this car apart are its powerful front and rear suspension which are hinged, a light body weight and three powerful motors – each with a different use.
Redcat Racing's Volcano EPX RC car has a poly-carbonate body, oil filled shocks which are capped with aluminium and waterproof electronic parts.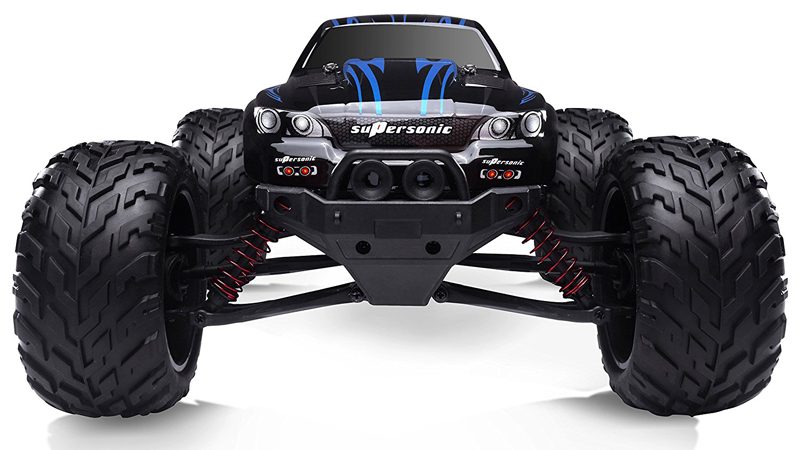 HOISM's All Terrain RC Truck has a remote control of 2.4GHz and is amazingly fast. The powerful brush 390 motor makes it go at a maximum speed of 33mph. Its durable and has strong wheels that are suitable for all weather terrain are an added advantage.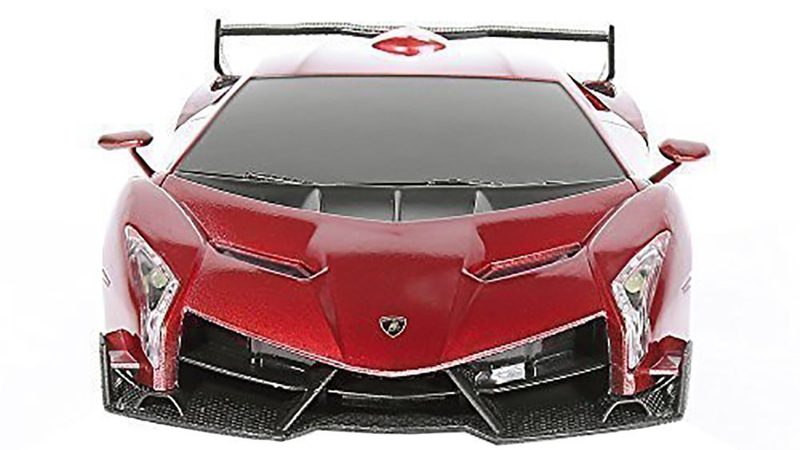 Its not been long since Lamborghini Veneno RC Car has been introduced but it has become extremely popular in a smaller amount of time. It is probably due to its sleek design and fully functioning modes of moving reverse, forward, stop, left and right in a quick motion. The glowing head and rear lights are another advantage.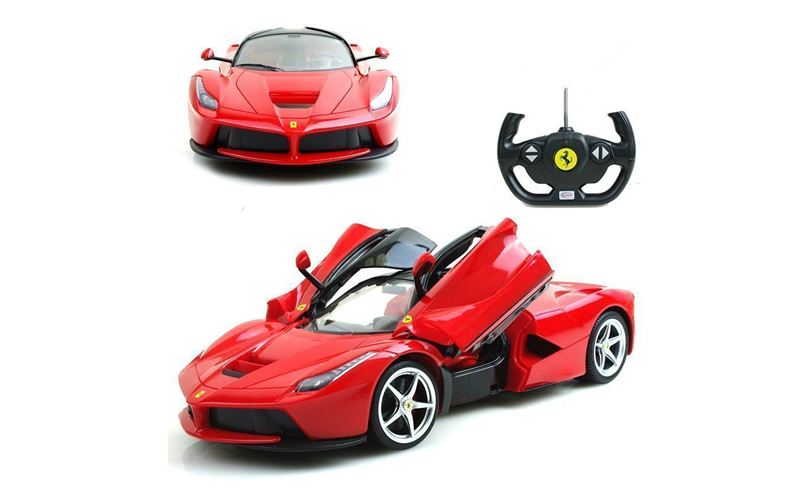 Open Door Ferrari Laferrari is a 1/14 scale remote control car. It comes in a ready to run (RTR) format. It is officially licensed and can move in any direction in a quick motion. The headlights are in a working condition and even the doors of this car can be opened.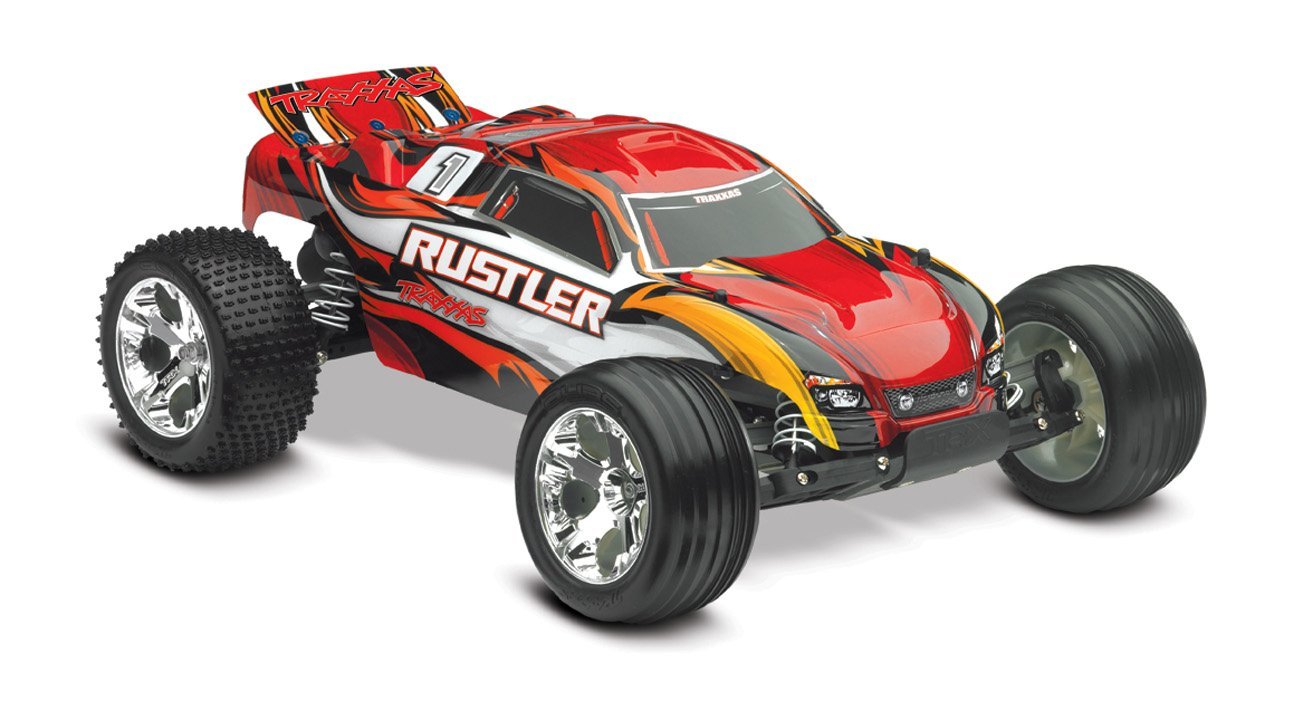 Traxxas Rustler is waterproof and therefore can survive any wet conditions. Traxxas is known to make best RC cars in the market with sleek design and powerful performance. This car can achieve a speed of 35 mph and runs on a 2.4 GHz radio system. Its high durability and strength can make this car run all day without any kind of struggle.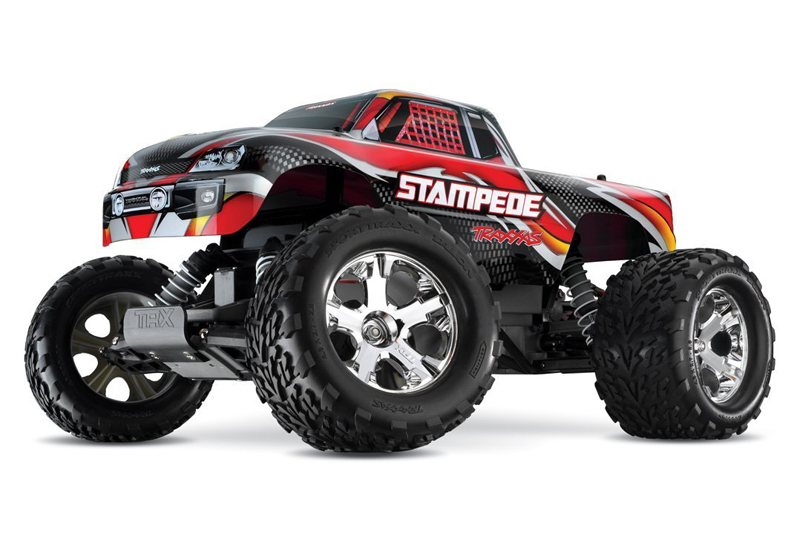 Traxxas Stampede 2WD Monster Truck runs on a 2.4GHz radio system. The receiver is sealed in a watertight container, making this model safe for all weather conditions. The internal antenna further makes it impervious to any kind of damage. It uses a twelve Titan 550 modified motor with a revo spec servo torque.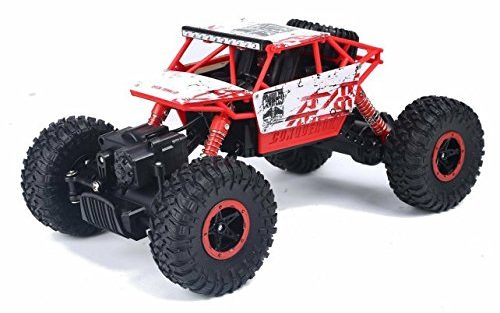 SZJJX 4WD RC car runs on a 2.4GHz radio frequency and is a 1/18 scale model. It has a highly durable rack made of high quality materials, which give it a more rugged feature. The rubber tires are made of PVC and run smoothly, even on rough terrains.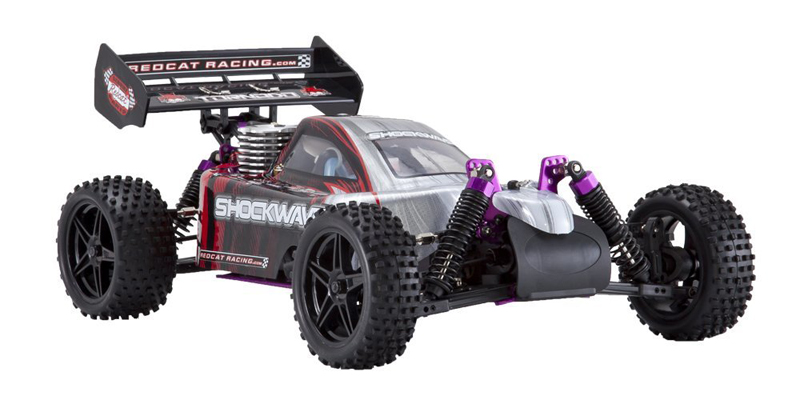 Redcat Racing Nitro Shockwave Buggy is a 1/10 scale model and runs on nitro fuel. It is one of the best nitro RC cars available in the market. It has a pull start and will also require a glow plug initiator to start. The four-wheel car has a single speed transmission and does not include any reverse feature.
Best RC Cars Buying Guide
Below is a comprehensive RC car buying guide that will help you make a conscious decision while buying your remote control car.
Types of Radio Controlled Cars
As mentioned earlier, rc cars can be either off-road or on-road. But apart from those two, they can be also classified according to the way they are powered. Below is the classification based on the same:
1. Electric Models
They are powered by an electric motor and rechargeable cells (Ni-Cd, Li etc). The electric motors may be brushed or brush-less.
These models use a mechanically or electronically driven control to deliver signals to the electric motor attached in the car. The power transmitted to the engine is directly proportional to the signals transmitted by the transmitter. That is, the more you pull the trigger, the faster will your car run.
This is the best RC cars for beginners to work with.
2. Nitro Powered RC Models
Nitro RC cars use small internal combustion engines which are powered by a 'nitro' fuel-a mixture of methanol, nitromethane, and oil (castor + synthetic oil). They also use glow plug engines.
They are generally not meant for beginners because they have complex working and refueling will need special care.
3. Gas Powered Models
Gas powered RC cars are fueled by a mixture of oil and gasoline. They are more expensive than both electric and nitro cars.
Some of their advantages are that they do not need frequent refueling, are cheaper to maintain over a long term and last much longer.
Ready to Run (RTR) RC and RC Kit Models
Radio Control cars are available in two kinds of forms: assembled or ready to run (RTR) and un-assembled or kit models.
Ready to Run (RTR) hobby cars are popular among all collectors and are manufactured prominently because they come assembled, are hassle free, require less time and work. Their popularity has led to the discontinuation of many kit models and now almost all manufacturers exclusively produce RTR models.
The only drawback is that RTR models will cost you more than kit models.
How Do They Work?
All radio-controlled cars, irrespective of the way they are powered, use a common mechanism to run. They require a transmitter which produces radio waves which is caught by a receiver, attached inside the car. This receiver changes the radio signal into suitable electric signals, that can be understood by the car's control system.
Most transmitters use an Amplitude modulation (AM) but the newer, upgraded models also use Frequency modulation (FM). Now-a-days, 2.4 GHz frequency is the standard radio signal used in almost all models. The radio signals mainly control the vehicle's speed, servomechanisms like braking, steering etc.
The Best Selling RC Car Brands
These brands are known for manufacturing top quality racing model cars.
Traxxas
Traxxas completely justifies its tagline- "The Fastest Name in Radio Control" through the manufacture of performance based racing car models. The Traxxas RC cars are ready to go from the moment you open the box and they can be credited as one of the earliest companies to introduce a new line of revolutionary ready to race (RTR) cars. Their legacy in the world of RC cars still continues with newer and advanced innovations.
Maisto
Maisto was founded in 1967 but it gained popularity among the masses only in 1990, after manufacturing 1/18 scale models of Italian cars like Bburago, Polistil etc. The key features of their brand are their attention to detail, sleek designs and high performance.
Redcat Racing
Redcat Racing promises to be three key things- fast, affordable and fun. It is amazing how it does manage to be all three. They produce fast RC cars at a comparatively lower cost than other high-end brands like Traxxas. Their cars have all the necessary features which make them fast, power driven, durable and extremely fun.
The Cost of Your RC Vehicle
Remote control cars are available in a price range of $30 to $299. Their cost is mainly influenced by their brand, scale model, features and assembly. Brands like Traxxas have models starting from $199 and are generally equipped with superior features. Maisto has good RC car models from $30 dollars – like the Maisto RC Rock Crawler.
It is not always true that a high cost car will give you superior features. Many cars priced under $100 do deliver great performance as well.
Types of RC Device Batteries
In case you are creating your own RC car, failing to choose the proper battery can cripple your RC experience. You need to compare various aspects of functioning in order to choose the battery that is tailored for you and your RC.
1. The Lithium Poly-hydride (LiPo) Batteries
These batteries are highly popular when it comes to RC cars.
It has many advantages over other batteries as it is cheaper, light-weight and easy to handle. Also, it doesn't possess the effect of memory and can be charged easily and several times.
The disadvantage lies in the fact that it can be potentially dangerous if exposed to extreme heat and are therefore generally not recommended for novices in the field.
2. The Nickel Metal Hydride or Nimh Batteries
These are also popular batteries in the field of RCs. It also has several pros and cons that we will now discuss.
These batteries can be charged two times in the same day which is a plus. Moreover, it provides good power to boost the device it serves.
The con comes in the form of inconvenient charging, and the fact that they are heavy. Another substantial con seems to be that they have the Memory Effect – a huge disadvantage to devices such as these.
3. The Nickel Cadmium or NiCad
These are yet other RC car batteries that have stood the test of time and have therefore gained a reputation for themselves in the RC car arena.
The main pros of these batteries seemed to be their durability, which can sustain even very harsh treatment and produce good results. Also, the low costs of these batteries make them very affordable and popular among all RC enthusiasts.
The main disadvantage is the presence of the dreaded Memory Effect in the batteries. The weight is also neither too much nor too less, and due to the old battery usage, the power it supplies to its device is not as much as done by its two other counterparts.
Additional Accessories
Apart from a radio transmitter, all radio-control cars require powering mechanisms. For electric cars, batteries and a charger are required. Most use a Li battery with voltage ranging from 7.4 V to 11.1 V. Also, Nitro powered cars require a glow fuel heater, a set of rechargeable batteries and nitro fuels.
Racing Tips for Beginners
If you are just starting to race, then here are few tips that will help you to race your car in a better and perhaps in an award-winning way:
Acceleration
The most common mistake every beginner does is in controlling the acceleration. Speeding up your car randomly won't make it win the race. It is better to accelerate during the second half of the race or when you are close to end of the race. Also, avoid accelerating your cars at any bend or turn because it will lead to loss of control and your car may topple over.
Practice
Race your car regularly to observe what common mistakes you are making. Explore all the possibilities by taking risks whenever you practice, this will help you in knowing what your car can do or can't do. Being consistent with your practice is more important when it comes racing.
Track
Inspect the track well in advance before any race. As this will help you in deciding how to run your car at every turn, bend or slope.
Safety Notes to Consider Before Racing with RC Cars
While there is a lot of satisfaction brought with a RC car, there are some risks invariably involved as well. You could easily lose or damage parts and not know how to find or fix them as a RC beginner, or you might risk potential explosion while handling an overheated RC device. You might be particularly disapproving of handing one over to your really young kid as well.
To be well aware of the risks involved and how to avert them, it is the duty of every lover and potential fan of RC to read through this instruction manual of sorts. Go ahead and study on!
1. Clear Out from Crowded Public Places
RC cars are a joy to operate and for the best experience, you should race them in empty spaces away from the crowd. It will definitely be more fun.
But on a more serious note, this precaution is absolutely essential to public safety. On crowded roads or avenues or commute, operating RC vehicle can bring substantial injury.
2. Make Sure of Your Batteries
Battery is the most important component of your RC car as it provides the power to run. It can come with several defects and shortcomings like:
Taking too long to charge or frequent charging.
Made with outdated technology so that it isn't able to supply requisite power.
Dangerous to handle or expensive.
Damaged at the supplier's end – thus damaging your device.
All of this can adversely affect your RC experience and rooting them out is a must.
3. Read the User Manual
Users in a hurry to get a taste of their new device often ignore the user manual – which is the most helpful resource. The user manual explains how your RC car is supposed to function.
The second part of the problem crops up when the car is not acting properly and users fail to detect and correct it. This happens if they haven't been through the manual first. Please ensure this does not happen with you.
4. Don't Get Hurt
RC cars are powerful devices and can cause harm to you as well. Thus, these devices can be dangerous if not handled properly.
The fuel and vapors emitted from nitro RC cars are toxic – so be careful and avoid the physical contact.
Do not touch engines and motors after races because they are tremendously heated up and can scorch you.
5. Maintenance Guide
To make your remote-control cars last longer and retain its performance efficiency, the following tips might be helpful:
Replace Bushings with Ball Bearings
It is advisable to replace the bushings (which help tackle friction during running) with ball bearings. The latter have been proved to be more durable and long lasting.
PVC Tires Are Better
Tires made of PVC should be preferred while buying or look for tires that will withstand all kinds of weather conditions.
Replace With a Good Engine
A good engine is an important component of every radio control car. Many RC come with mechanical control driven engines which deliver less performance as compared to electronically control driven engines. Therefore, it is advisable to replace the same.
Also, try to buy a car which runs on rechargeable batteries for easy operation and maintenance.
---
FAQs About RC Cars
Who Invented the First-Ever Engine of a RC Car?
Nikola Tesla was the man who invented the engine for a RC model in 1898. But 1960s was actually the time when these engines were mass produced by a company named El-Gi (Elettronica Giocattoli). Further, in December 1966, the first RC car model was then sold by El-Gi in UK and the model was the 1:12 scale of Ferrari 250LM.
What Material Is A RC Car Made Of?
Most parts of RC cars or any other RC models are made from silicon-based materials. Moreover, the coverings for Shock fluid and electric wires in RC cars are also made of Silicone.
Who Was the First RC Car Racing Champion?
Butch Kroells is the man who was the first RC Car racing champion in the world! He won the Thorp Raceway, Pomona championship at California in 1977 and became world's first ever racing champ!
Are RC Cars Only Built for Outdoors?
Many people think RC cars are best to be raced outdoors as they require sufficient space. But it isn't true as you can play with most of them indoors as well. Also, there are some RC car models that allow you to control them via your iPhone and they don't need much space in your room.
What's the Difference Between Nitro RC Cars and Electric RC Cars?
Nitro RC cars are powered by methanol-based fuel while electric RC cars are powered by electricity.
Also, nitro RC cars make a lot of noise as they operate on combustion. While electric cars produce much lesser noise and don't emit smoke as well.
Off-Road RC Cars vs. On-Road RC Cars?
Remote controlled cars can be controlled through a radio frequency link through a remote. They are wireless and are mostly powered by either batteries or gas.
Remote control cars (or RC cars) can either be off-road or on-road.
Off-Road RC Vehicle Models
Off-road models can run on all kinds of terrain and have more rugged durable tires.
On-Road RC Vehicle Models
On-road models can only run on paved, smooth roads and don't have the toughness of off road models.
---
Conclusion
RC Cars (or RC drift cars) are not only fun to play with but can be operated easily by people of all ages. Remote control cars can run anywhere at any time, without any prior preparation.
They are easier to maintain and require a lesser maintenance cost than other toy models. The important thing to note is that when you are buying your next RC, do look for features, ratings and the value for money.