Traxxas is a company which dominates the rc vehicles market with its wide range of trucks for all those looking out for a powerful monster to control and play around with. The Stampede 2WD truck is another of its highly successful products which cater to the needs of consumers.
A wide range of features contribute to its all-terrain performance, in addition to its appealing body work as well as enclosed electronic control for efficient performance. Let's go through all the features of the Stampede which makes it such a huge success in the market.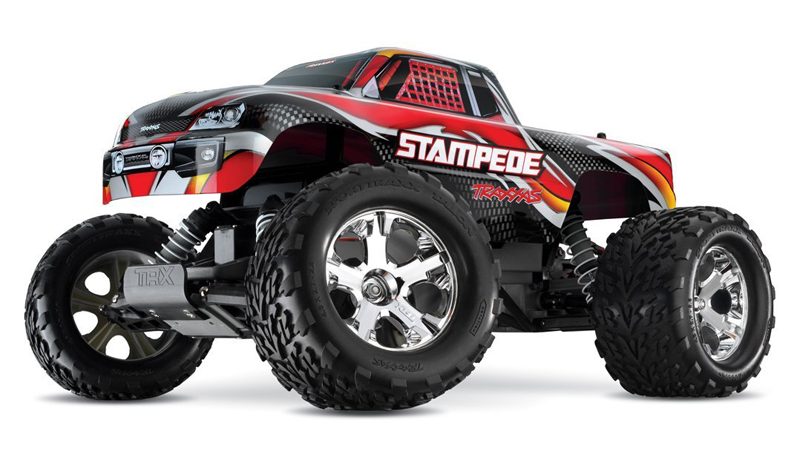 Specifications
It is controlled by a 2.4 GHz frequency based radio for a greater compatibility.
A 12 Volt DC charger is given with the truck for charging options which make it easier to not depend on batteries due to its 4 Amp fast charging properties.
The inbuilt Traxxas battery made of seven cells is a reliable component which is optimized for free flow of power.
It weighs about 8 pounds and has a dimension of 9.5 x 16.25 x 12.75 inches.
The motor is of Titan build, a 12- turn 550 one which can give speeds of more than 30 miles per hour.
It has got a metal gearbox based on exceptionally smooth ball bearings for the Ready 272 Transmission.
In addition, it can run continuously up to 30 minutes if fully charged and with proper power management.
Construction and Design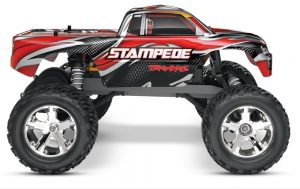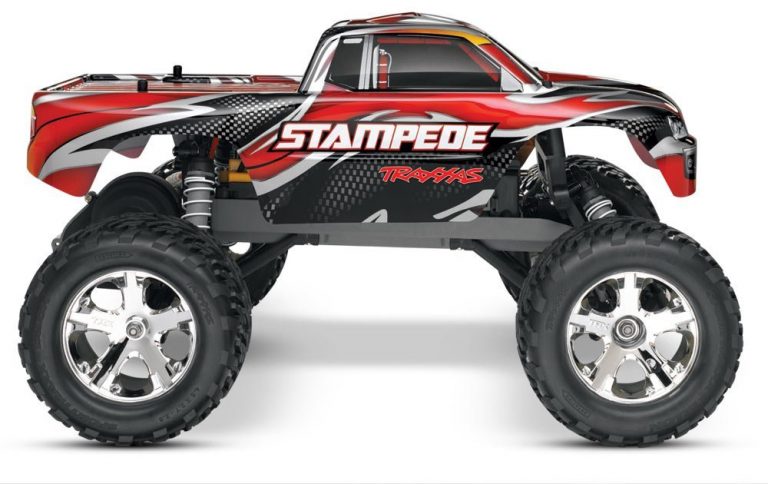 This all terrain monster is truly designed for the utmost performance. Being made of a hard-plastic exterior which can withstand all types of rough maneuvering, it has also got an attractive ProGraphix outer finishing. The powerful motor and wide tires give it its unbeatable composure, with the great in-built electronics providing maximum efficiency and range in the communication between the remote and the receiver set due to the XL-5 Electronic Speed Control.
The remote is quite ergonomic to handle and the whole package consists of a precision charging kit with peak detection circuitry to charge totally in order to maximize run time.
Pros and Performance Accuracy
Since the antenna is internal, it does not interfere during the movement of the truck and provides for easier maneuvering in addition to being immune to damage.
This monster is ready for any terrain and any weather with its watertight receiver set which is basically a 3-channel receiver.
Moreover, with the TQ 2.4 GHz system being used, many number of competitors can use the same frequency for similar trucks without any interference from each other.
The motor has got an internal fan to prevent overheating and resulting reduction in performance.
The gearbox which is used to provide the brushless transmission is sealed to prevent dust or dirt from entering into it and rendering it ineffective.
Ultra-tough suspension, which is one of its prime attractive features, as well as high ground clearance contribute to its high performance.
Tips for Better Handling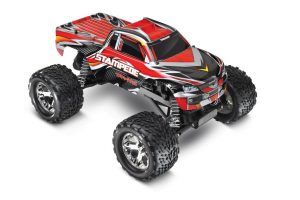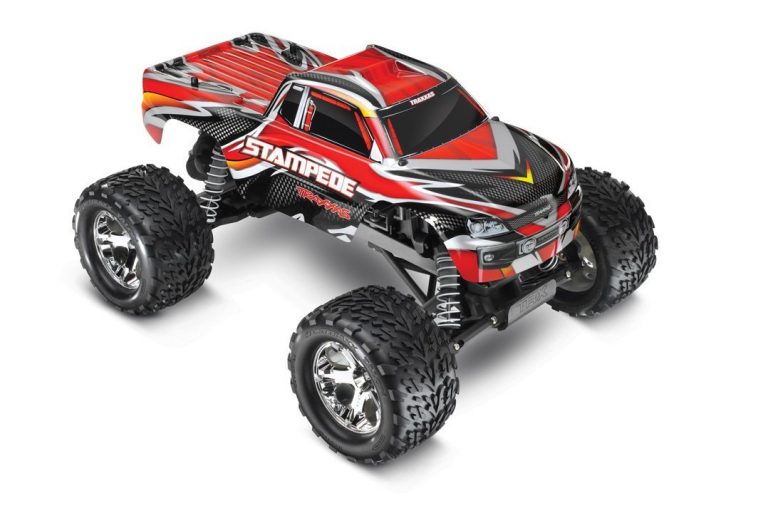 Beginners should use the training mode to learn to control this monster. This mode is a patented component of the Traxxas company and delivers just half of the power by reducing the throttle until learners start getting control of the whole machine.
The 2WD model of this series can sometimes not take sharp turns at really high speeds as compared to the 4WD models. One way to do it would be to figure the turn in advance and take a larger radius to turn at the right moment.
Even though it has got watertight electronics, it should be handled with care and not be rashly driven into any water source or left around carelessly in wet or muddy land areas.
The three drive profiles are the sport mode, race mode and training mode which can be used according to the environment the truck has to be driven in for maximizing its performance.
Can it meet your expectations?
The Stampede is really the best buy for the price range it is available in. With its powerful built, it really can take a lot of beating and be able to deliver the best performance ever. The rugged exterior with the steering servo gives immaculate immediate response and the electronic speed control gives sudden acceleration and really cool air flips. The strength of the gear is due to the hardened steel which gives it an efficient overall performance. All this makes it one of the best trucks in the market compared to other monster trucks with similar specifications.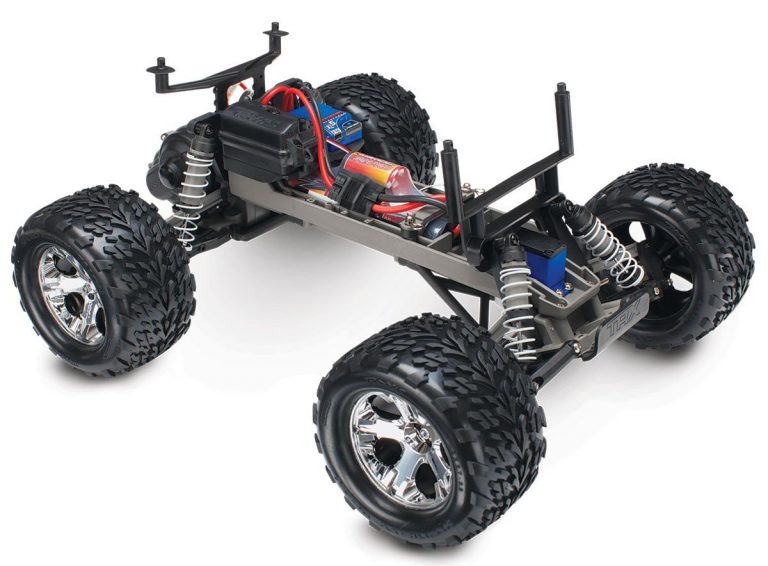 Cost Considerations
For all its specifications, this truck is available on most online shopping sites for an affordable price range of $ 195 to $ 215. For this price range, it comes fully assembled and can be ridden as soon as it is delivered. The whole package also contains the trademarked batteries for the vehicle as well as the DC fast charger for charging it.
The transmitter needs 4 AA batteries for its performance, which is also included in the delivery. Since, the truck does not require additional batteries and relies on charging, it really is cost efficient and gives the ultimate value for the amount spent on it.
Don't Miss Out the Following Radio Controlled Cars: