Maisto has done it yet again with its new and powerful off the road radio controlled truck. It is not just a dream toy for your adventurous kids, but also ignites the inner remote control love within you! Perfect companion to your off the road gaming sessions, don't take it lightly, because this machine packs a punch! It is named rock crawler for a reason. It contains front and rear articulated suspensions, two motors, low gearing, TPE tyres and tri-channel transmitter. This beast can easily navigate harsh terrains.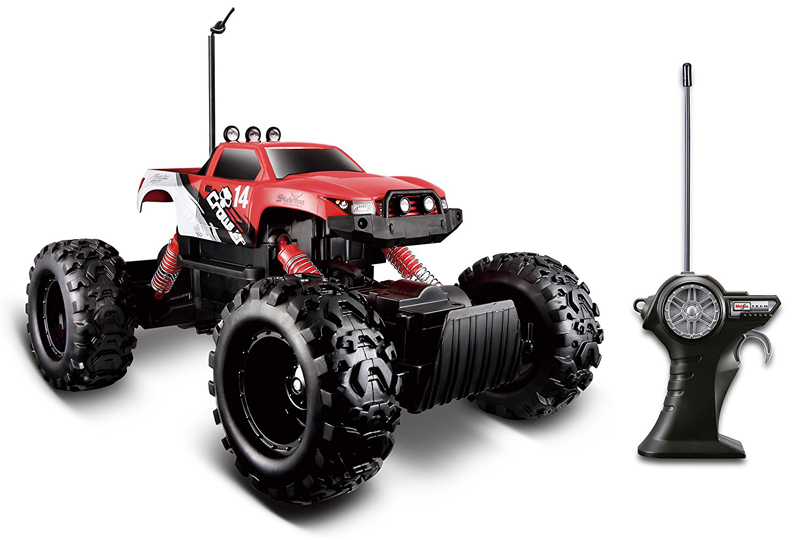 Specifications
Two motors
Low gearing
All-wheel drive
Articulated front and rear suspension
Tri-Channel Transmitter
TPE tires
Construction and Design
Product dimensions are 12.5 x 7 x 8 inches and item weight is 2.9 pounds. Made of TPE tyres. Has a lightweight but at the same time high quality plastic body. Some parts are made out of copper which makes it extremely durable.
PROS and Performance
Fully articulated multi-link suspension, low gearing, soft TPE tires and all-wheel drive, means that this truck can withstand some extensive usage.
Excellent off-the road performance. It can easily move past tough terrain. Highly responsive, you can easily manoeuvre it with precision.
It has a powerful wide area radio range.
Forward, Reverse and Left-Right steering which means it can easily traverse those narrow tricky corners.
With AAA alkaline batteries and 4×4 motors driving the vehicle, this radio-controlled truck has a powerful torque.
The suspension linkages and shocks are fully functional (the shocks even come with coil covers). This means that it brings stability to the vehicle. It helps to keep the truck in line and maintain proper balance. This in turn reduces damage and makes it sturdy.
The truck's body is made of high quality plastic, making it break free and scratch resistant.
TPE tyres provide superior grip and less skidding. It has tall tread patterned tires. The body is also small this creates more space for the wheels whenever the suspension flexes.
It has two motors. Which means it is ready for some heavy-duty usage and you have increased control over the vehicle at all times.
It has a practical size and weight which is perfect for your home storing needs.
The powerful torque allows it to successfully scale obstacles and still maintain traction.
Tri channel transmitter allows three people to play simultaneously, connecting other Maisto rc cars. It also has three different frequencies.
It has impressive looks and is available in different attractive colors.
Tips for safe handling
Contains small parts, not suitable for children under 3 years.
Recommended to use 6AA alkaline batteries for the vehicle and 2 AAA for the controller. Alkaline batteries provide better shelf life at low voltage consumption.
Keep the remote-control steady for best performance output within its range.
Do not navigate the truck against sharp objects. This may cause damage to the vehicle.
Can it meet your expectations?
With all the powerful features mentioned above. The Maisto R/C Rock Crawler Radio Control Vehicle will fulfil your child's and even your adventurous backyard gaming needs perfectly. With such great features at an unbelievable price, what are you waiting for? Don't think twice! Order one now!
Don't Miss Out the Following Radio Controlled Cars: