Make a bold statement with this monsterous all weather truck. The HOSIM All Terrain RC Car S911 is suitable for racers with all skill levels, especially for the ones just starting out with the hobby of RC Racing.
Experience the thrill of rc racing cars with this super fast monster truck at 33+ mph fitted with a 390 GP brush motor. Overpower every track as you show off its intimidating looks and offroading superpowers owing to its deep tire treads, wide stance and low center of gravity. With a radio system at 2.4 GHz, the truck offers smooth and precise control, simple to understand and will get you started immediately.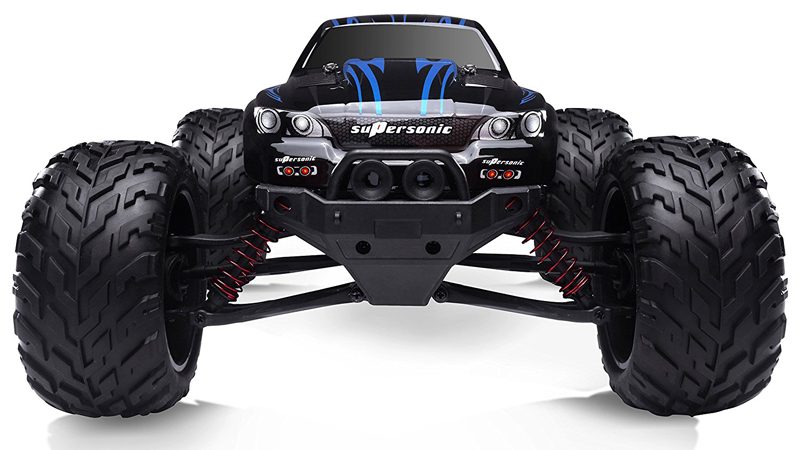 Specifications
Product Dimensions: 12.6 x 10.2 x 5.5 inches
Weight: 4.1 pounds
Powerful brush 390 motor
Top speed of 33mph
Radio System 2.4Ghz
Remote Control Range: 80 meters or260 feet
S-Truck suspension technology
Suitable for rocky or uneven terrain
Wheels are shockproof and antiskid
Semi-waterproof
Replacement Warranty: 1 year
Play Time: 10-12 minutes
Charging Time: 150-180 mins
Functions: Forward, Backward, Left Turn, Right Turn and Climb
Batteries are not included: Lithium ion 7.4 volts 800 mAh battery
Transmitter requires two AA batteries (1.5 volts each).
Construction and Design
The HOSIM All Terrain RC Car S911 has a tough look with a stylish finish. It is equipped with a compound remote control off-roading tread that is huge and soft. The front shock aluminum tower battery and charger protects it from bumps and crashes. It is installed with rubber wheels made of PVC that are shock proof, soft, elastic, and anti-skid. In addition to that, four suspension links, springs, and a shockproof system protects the vital components inside the vehicle. It is packed in a preassembled condition and is ready to run immediately. Replacement parts are available widely.
Pros and Performance Accuracy
Its powerful motor allows you to race at an astonishingly high speed of 33+ mph.
Experience superior control and comfort owing to the ergonomic design of the transmitter and high responsiveness of the steering and throttle. Accurate controlling features enable you to drift, turn and flip as you please.
It offers great off-road performance as its tires are suitable for off-roading along with aluminum front shocks. Developed using a superior suspension technology and shockproof design, the high performing remote control truck is sturdy and durable, making it suitable for off-roading. The flexibility of its movement enables it to easily go through wet mud, sand, grass or marshy areas.
All internal parts are well protected owing to springs, suspension links, and it's shockproof system. The wheels have an anti-skid material and are soft, shock proof and highly elastic.
Unpack it in a ready to run condition with no need for assembly.
You can enjoy the action in all weathers, as the semi-waterproofing at IPX5 Waterproof Level prevents the water from entering the internal parts.
Tips for Safe Handling
Control carefully when speed is high. Crashing at a very high speed may lead to damage.
Check for loose wires, loose screws, bumps, and damages.
Avoid driving in public areas or congested paths.
Make sure your tires are facing straight as you approach jumps.
Remove any excess mud or dirt. Use an air compressor for cleaning the chassis and speed control.
Change tires as they wear out.
Can It Meet Your Expectations?
Experience great grip and precise control as you take this truck for an aggressive drive. The truck has sophisticated suspensions allowing you to drive over obstacles without any hassle. Making sharp turns and super saves, without flipping over, is no big deal for this monster. The fast speed will impress you but at the same time, it is easy to control.
Its performance and durability justifies its price and will not disappoint you.
Don't Miss Out the Following Radio Controlled Cars: