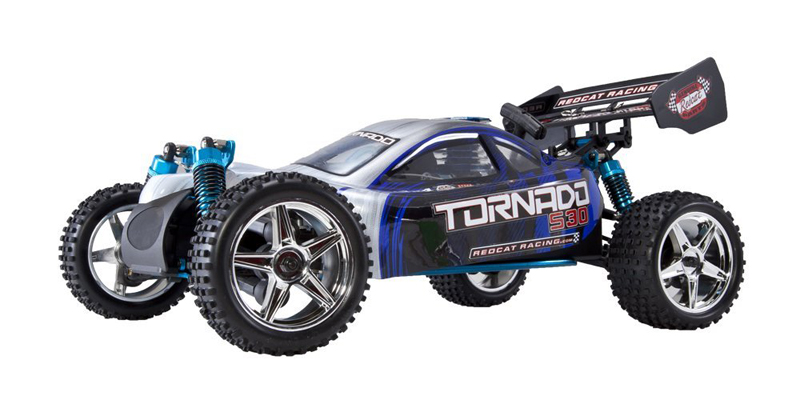 Nitro RC cars are the best way to experience realistic motor driving on a small scale. They are difficult and expensive to maintain but their popularity still remains undiminished. Every RC hobbyist worth his salt will own at least one of these because of their powerful performance, high speed and realistic driving feel.
Here are the 5 best-selling nitro remote control cars that are a must own for every RC hobbyist.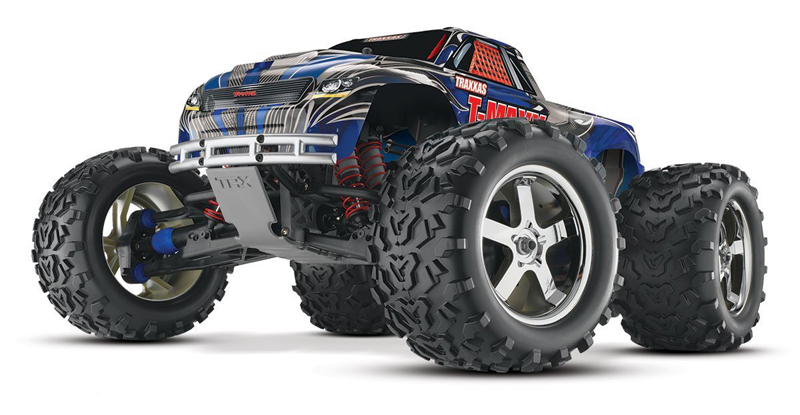 Traxxas's T-Maxx 3, 4WD nitro-powered RC truck can run on all types of terrains. It has a 3.3 cc engine, which provides enough torque for a power packed performance. It has a heavy duty chassis brace and runs on a two speed transmission.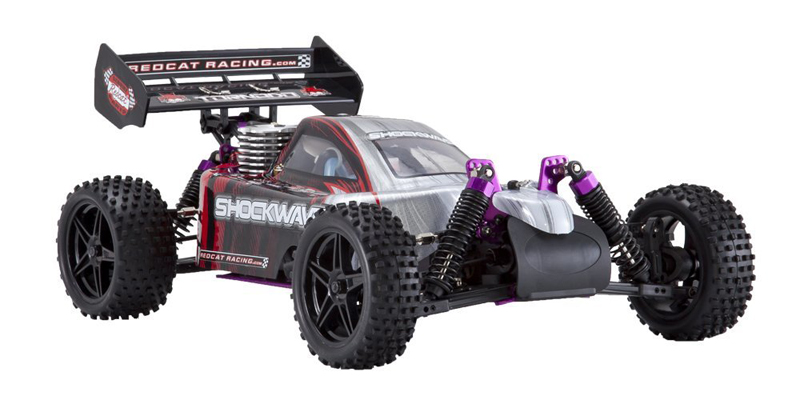 Redcat Racing's 4WD Shockwave nitro RC car has a nitro engine of 2.67 cc and requires a pull start. Reverse is not available and this model will also require a glow plug ignitor along with nitro fuel.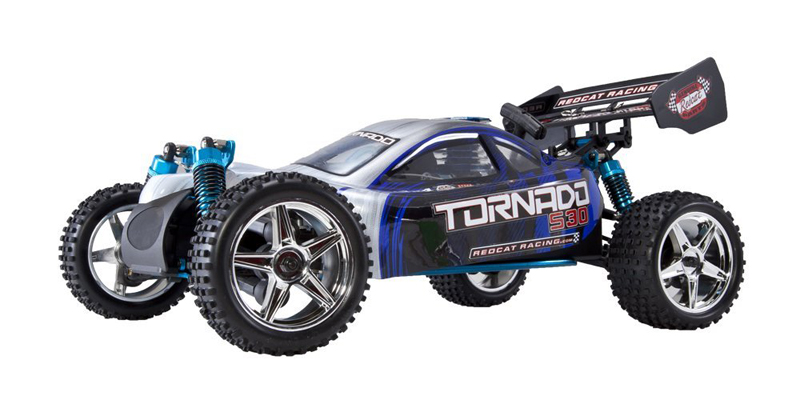 Redcat Racing's Tornado S30 RC buggy has a nitro engine of 3.00 cc. It runs on a radio frequency of 2.4GHz and will require a glow plug initiator and 12 AA batteries. The transmitter can run a number of vehicles at the same time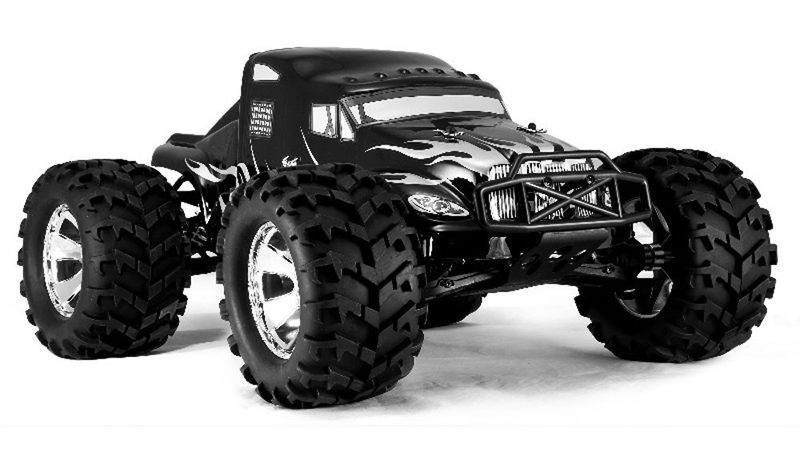 Redcat Racing's Earthquake 3.5cc 2-speed nitro semi truck is powered by a 3.5 cc nitro engine and has a scale of 1/8. It will require nitro fuel, a glow plug initiator and 12 AA batteries in addition. It can drive in two types of speed transmission.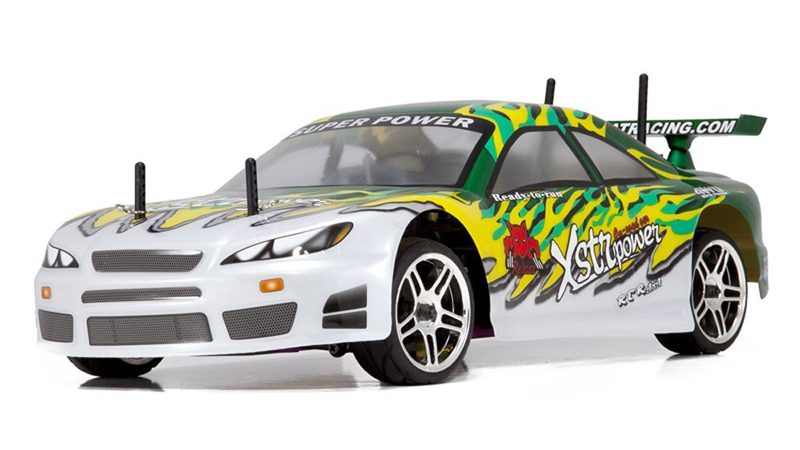 Redcat Racing's Lightning STR nitro car can run on two types of speed transmission. In addition, it comes with a 2.677cc engine and has a pull start. Like all Nitro cars before, reverse is missing.
What are Gas Remote Control Cars?
Gas RC cars are powered by mixture fuel of methanol, nitromethane and oil (in most examples, a merger of castor and synthetic oil). They use a glow plug for ignition in small internal combustion engines, where the fuel is burnt to power the vehicle.
Working
RC nitro cars work more closely like real cars because they use a two-stroke engine, instead of a motor. A single servo is use for braking and throttle action. During rotation in one direction, the throttle opens to provide more fuel for IC engine. If the car is rotated in another direction, then torque is applied to and braking happens through friction.
RC gas cars can run for much longer periods than electric or gasoline cars. They also retain high speeds for a longer period of time.
Type of Fuel
As stated before, nitro fuel is the mixture of oil and Nitro fuels (methanol and nitromethane). The ratio between these two is important and is generally specified by the manufacturer. Generally, the amount of nitro is about 80 percent and oil is about 20 to 25 percent.
How to Start your Nitro Car
Nitro engines can be activated in three possible ways and it mainly depends on the type of feature the manufacturer has installed.
1. By Pulling a Cord
In this, the nitro engine is activated through a pull start mechanism. A pull chord attached to the engine when pulled, spins a flywheel which further activates the engine.
2. Electric Start
An electric start can either use a shaft mechanism or an on-board starter. In the former, a gear box is installed on a small electric motor. Push a button to activate the motor which in turn starts the engine through a series of linkages.
On-board starter system is generally used by Traxxas. Here the electric motor is powered by battery tool, which also activates the glow plug along with the engine.
3. Starter Box
In this the remote-control car is placed on a starter box which has an electrically powered disc touching the flywheel though the car's framework. The disc is pushed on the flywheel to make it start and which in turn starts the engine.
Tips and Tricks
Nitro cars require special care and more attention as compared to electric or gasoline cars. Here are some tips to keep your nitro cars running forever:
1. Fuel Percentage
Check how much oil and nitro will your car model require. Through the percentage does remain constant at most times, it is better to recheck before refueling.
2. Glow Plugs
Internal combustible engines require glow plugs to work and most models come equipped with them. Use high quality glow plug and always keep some spares for emergencies.
3. Mechanical Run
After buying a new gas powered RC car, it is always important to do a break in or a mechanical run to ensure smooth operation. Refer the manual on how to do the same.
4. Maintenance
Nitro powered RC cars require regular cleaning to remove the fuel exhausts from the engine. They need to be refueled at regular intervals and also have their parts checked after a continuous run.
---
Conclusion
Nitro RC cars stand for high performance and realistic driving. Their continued popularity even after stiff competition from electric car models, have shown that in their advantages rule over their supposed drawbacks. Their complex working and high maintenance might be troublesome for beginners but once you get a basic understanding of the same, you will love these high powered little beasts!