If you want to break free from your mundane work schedule and take part in some serious racing and bashing adventures then the Redcat Racing Earthquake is your perfect companion in all your road buggy racing endeavors!
The Redcat Racing Earthquake is a 4X4 monster truck that is nitro powered and is a perfect nitro racing car for off road terrain. Its new design makes it really light and powerful for all racing quests. It can reach insane speeds of up to 50mph and is sure to dominate over the other buggies out there.
It has a powerful 3.5cc .21 SH nitro powered engine that delivers insane power as well as acceleration. It has a 2-stage transmission system for easy shifting and handling. It has a tank capacity of 125cc so you don't have to refill it frequently. It offers decent ground clearance and it is really rugged and sturdy when it comes to off road racing. It has a durable aluminum frame and it comes with a accurate 2.4Ghz radio controller and receiver to control the vehicle.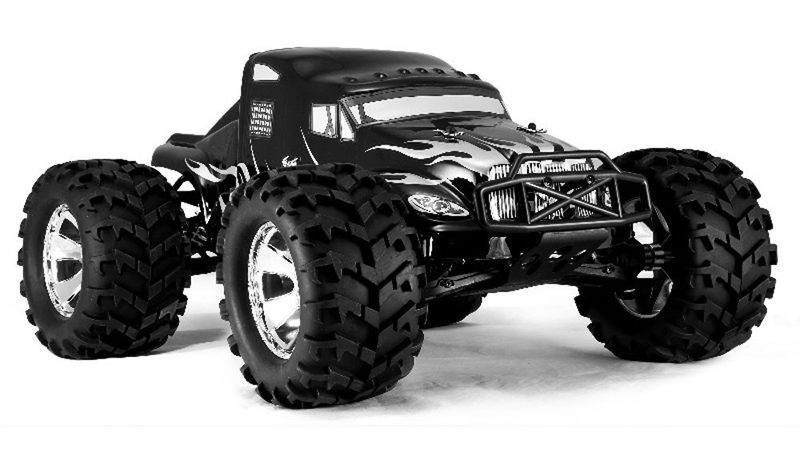 Specifications
It can reach a maximum speed of up to 50mph without any hiccups.
It has a 2-stage transmission system for shifting speeds and helps a lot in smooth pick up and running of this truck on the fields.
It features a powerful 3.5cc .21 SH engine that is nitro powered and provides excellent acceleration.
Rugged and sturdy tires specifically designed for off road usage and is quite durable in the long term
Its body is complete 2.5mm aluminum alloy incorporated and gives strength and power to the body and frame of the truck for durable performance.
Its fuel tank capacity is 125cc and lasts quite long.
It comes with a 2.4Ghz radio controller and receiver.
It has a wheel base of 325mm and it offers a decent ground clearance of 58mm.
It has a height of 250mm, a breadth of 380mm and a length of 510mm.
Construction and Design
The Redcat Racing Earthquake is a tough little beast and is designed specifically to withstand tough challenges on the field. It has an all-aluminum alloy 3mm body chassis that gives it the sturdiness and support in its frame and is quite durable. The components are placed ergonomically and the wheel base is also good. It offers a decent ground clearance and incorporates many useful features in its frame. Even after this, it manages to remain lightweight as well as stable on the field. It has a fuel tank capacity of 125cc and the engine is 3.5cc nitro powered one that delivers powerful performance. The overall design of this truck is quite rugged and sturdy and the light frame of this truck allows it reach high speeds of up to 50mph with ease.
Pros and Performance accuracy
This little beast is extremely powerful when it comes to off road performance and it literally tears off grass with its tires! It has a very powerful engine at its heart that provides excellent acceleration to this truck and its light body frame allows it to just zoom past obstacles and dirt.
It has a really attractive and affordable price point at which such cool features are being offered in this truck. This really makes this deal a sweet one with its affordable price tag and the awesome features that come with it.
It is really fast when it comes to racing and as stated above, it can easily reach high speeds pf up to 50mph on all kinds of surfaces.
Its rugged and sturdy body is also a plus point as it takes no harm while driving on road or off road. It runs smoothly on any kind of terrain and its wide wheel base keeps it stable at high speeds while the truck offers enough ground clearance to avoid obstacles and still remains stable in all situations.
Tips for safe handling
Always wear protective gear for your eyes and other sensitive body parts when running this truck on off road conditions where there is dirt or gravel as it easily kicks back the dirt and flints and they may injure the eyes if the user is not careful.
The proper assembling and startup of this truck is a tad bit difficult for novice nitro racing enthusiasts so it is advisable to thoroughly read and understand the Instruction manual before setting up this truck. It will help avoid any issues during the startup and working of this truck.
You may also want to buy a starter kit for this truck if it's your first time at buying a nitro racing buggy. It contains all necessary tools and parts that will help you in setting up and repairing this truck whenever the need arises.
Can it meet your expectations?
If you are looking for a rugged and powerful nitro racing car that delivers excellent acceleration and powerful speed and torque then the Redcat Racing Earthquake will never disappoint you in any aspect. It has a powerful engine that delivers good acceleration, a sturdy and strong aluminum alloy frame that makes it stable and durable and the overall rugged design that makes it a perfect monster truck for all your off-road racing adventures.
Cost Considerations
The Redcat Racing Earthquake Nitro Truck is available for $269.99 on Amazon and there are no shipping charges. Consider buying an additional starter kit from Redcat that contains all the necessary tools for setting up this truck. It is available for $23.65 on Amazon. Considering the overall price of this nitro racing car, it is one of the best and one of the most rugged and powerful nitro truck in this price bracket.
You Can Also Try These Amazing Gas Radio Controlled Cars As Well: