How often do you come across a nitro racing car so efficient and powerful that you just have to own it for yourself? Well, the Redcat Racing Tornado Buggy is one such 1:10 scale nitro racing car that just deserves to be in your garage!
The Redcat Racing Tornado S30 Buggy is powerful on and off-road buggy that comes complete with powerful components to deliver excellent performance in all kinds of situations. It also features a powerful 3.00cc 18 SH efficient engine that takes care of all tough challenges on and off the road. An innovative design with ball joint suspension to minimize jerks and shocks. It has a two-stage transmission for better and consistent pickup and smooth running in the long term. Its chassis is really strong and durable for some tough grilling and is made up of aluminum alloy for better support and strength. This vehicle is one tough buggy that takes care of all your racing adventures both on and off the road!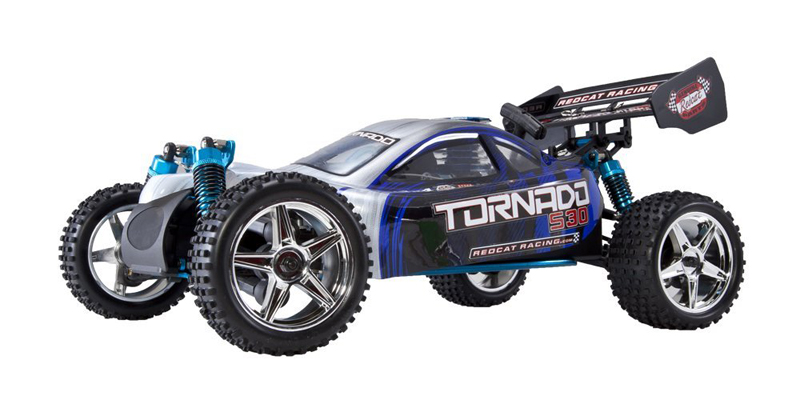 Specifications
This is a nitro powered vehicle that requires nitro fuel to run efficiently and a glow plug igniter for a successful startup and it is recommended to use the 80142a igniter for a smooth startup. Also, 12 units of AA batteries are required for this vehicle to run properly.
This vehicle features a powerful 3.0cc engine for consistent and durable performance on the tracks.
The vehicle has a fuel tank capacity of 75 ccs so that you don't have to worry about refilling every now and then after a run.
It has a 2-stage transmission system for smooth and quick pick up and it works fine on all kinds of terrain.
Also, comes with a 2.4Ghz radio controller for controlling this vehicle easily. The radio can also control multiple vehicles simultaneously without any hassles.
It has a length of 15.8 inches and breadth of 10 inches while it has a height of 6.5 inches when assembled completely.
Construction and Design
The construction and design of this buggy ticks all the right boxes and is ergonomically designed for better speed and efficiency. The chassis is completely made up from aluminum alloy and it is quite durable. It has an efficient shock absorption system made up of an aluminum body. Also, Its exhaust system is aluminum for more durability on the fields. The fittings are also placed quite strategically for an overall aerodynamic design and the body remains lightweight even after so many fittings.
Pros and Performance accuracy
This buggy is a beast when it comes to delivering powerful performance and its powerful 3.0cc engine takes on some really tough challenges without any major hiccups.
It has a really durable body and the frame is really sturdy and tough. Therefore, it will take a lot of beating before this car finally gives up. It whole chassis is made up of hardened aluminum alloy and is quite rigid. This makes this buggy perfect for on road racing or off-road bashing. It can handle it all before it takes a serious beating.
The Radio controller that comes with this car operates on a 2.4Ghz frequency and is quite fast and accurate in controlling this vehicle. It can also control multiple vehicles simultaneously without any issues.
The features that come with this buggy at this price point are simply the best and this buggy is an excellent entry level nitro racing car in this price segment.
Tips for safe handling
Sometimes, some users face difficulty is setting up this buggy out of the box and many issues persist. In these situations, it is advisable to follow the user manual and instructions carefully before setting up this car. Fix any issues that you come across by referring to the manual.
Some users may face some issues with the glow plugs that come with this kit. It is advisable to understand and use the glow plug carefully before setting up the vehicle.
This buggy is strictly meant for kids who are 14 years of age or above. Do all setting up and usage of the tools under adult supervision to avoid any accidents or issues.
Can it meet your expectations?
The Redcat Racing Tornado buggy is an excellent entry level nitro racing car in this price segment. It ticks all the right boxes in terms of performance, designing and durability. It can take on some really tough outdoor grilling. No matter if you are an occasional racing car enthusiast or a passionate racer, this buggy will never disappoint you with its accurate and powerful performance and the price too is really easy on your pocket.
Some More Gas Radio Controlled Cars To Try Out: