If Lamborghini has always been your dream car then this is your golden chance to get one, even if it is a miniature. Experience the joy of racing with this fun packed RC Car that is a 1/24-miniature version of the Lamborghini Veneno. It is one of the fastest cars in the price range and comes along with playful lights and a stylish design. It is an ideal RC Car for kids and beginners looking to get into the hobby of racing. One of the most enjoyable and unique features of this car is that it has headlamps that light up when the car moves forward and rear lights that come to life when the car backs up.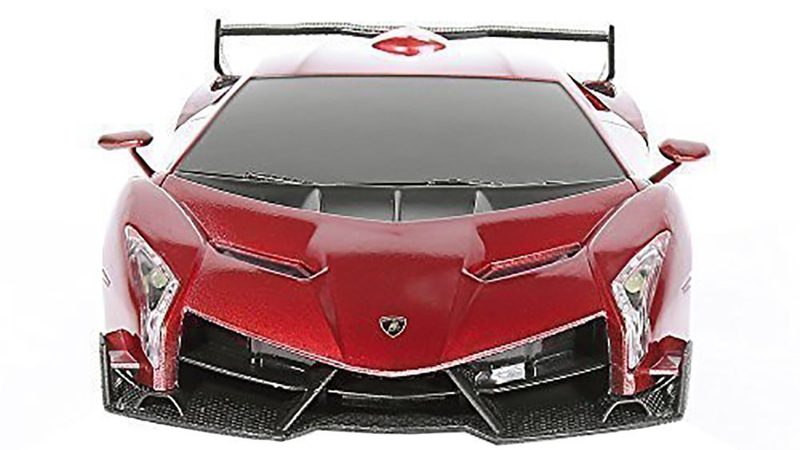 Specifications
Scale: 1/24
Product Dimensions 10.7 x 4.3 x 5.8 inches.
Speed: 8-10MPH.
The remote distance is about 40m.
Age suitability: 6+ years.
Weight: 15.2 ounces.
Energy-saving lights: Headlights and Rear lights.
Functions: forward, reverse, left, right and stop.
Construction and Design
The RW 1/24 Scale Lamborghini Veneno Remote Control Car is an exact replica of the Lamborghini Veneno. It is also officially licensed by Lamborghini, adding an authentic touch to it. The car has a pleasing appearance with sharp looks, detailed features, and a glossy finish. The RC Car has a great visual appeal that is only enhanced by its playful lights.
Pros and Performance Accuracy
One of the unique features of this car is the coordination of the functioning and the lights. The headlights light up when the car is moving forward, and rear lights glow red as the car is backing up. This feature is extremely exciting and adds to the fun of racing.
It passes many standards that ensure quality, performance, and durability making it suitable for racing both indoors and outdoors.
The car moves really fast at the speed of 8-10 mph and is extremely quick and responsive.
It has rubber tires that provide good grip.
The car can go over potential obstacles and moderately uneven surfaces as it is fitted with shock absorbers and the internals are well secured.
The RC Car is officially licensed by Lamborghini, thereby adding a touch of authenticity. It exactly resembles the Lamborghini Veneno as it is very accurately replicated and well detailed.
Tips for Safe Handling
Be careful while operating the car at a high speed, as crashing at a high speed may damage the car.
Avoid driving the car on the carpeted floor. It is more suitable for driving on smooth surfaces like concrete, wood or asphalt.
Be careful in the beginning, as you may find that the car simply drives off, running into furniture, walls etc.
Avoid driving in congested areas.
Can It Meet Your Expectations?
Offering sophisticated looks, high speed and a durable design, the RW 1/24 Scale Lamborghini Veneno Remote Control Car is a masterfully replicated model of the Lamborghini Veneno. The RC car is legitimately licensed by Lamborghini Veneno, giving you the satisfaction of owning an authentic one. It also passes various standards of quality and performance such as EN71, ROHS, RTTE, and EN62115. Its feature of the headlight lighting up while moving forward and the rear lights lighting up while moving backward will enhance your racing experience. The overall performance of the car exceeds expectations and gives the owner a luxurious feeling.
This RC car promises fun, speed and durability. Feel the pride of owning an RC Car that is actually licensed by Lamborghini, as you race your friends down the street.
Some More Radio Controlled Cars To Try Out: