Drift your way to glory in a LaFerrari that doesn't cost a million dollars! This might be your only chance to grab a LaFerrari for under $100.
Bring this RC supercar to life as you flaunt its stylish and sleek body. Race down the street with this Radio Control Car that goes as fast as 10 mph, leaving your friends in envy of its exquisite design and high speed performance. This model is battery operated and it boasts of a rear wheel differential system that prevents skidding.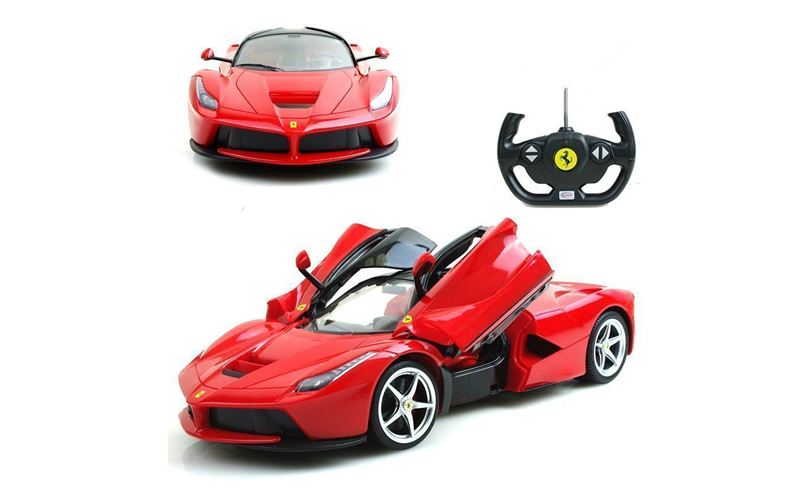 Specifications
Product Dimensions: 14 x 2 x 5 inches
Packaging includes: Car, 1 Remote Control, 1 User Manual
Remote Distance is 30 ft
Speed: 8-10 mph
Rims and tires are well finished along with detailed interiors and exteriors
Batteries Required (Not included in Pack): 5X AA Batteries and 1 9V Battery
Adjustable Front Wheel Alignment
Radio Controls: left and right, forward and reverse, and stop
Factory assembled and ready to race
Headlights and Rearlights
Open doors like life size LaFerrari
Bright Red Glossy Body
Independent spring suspension system
Weight: 2 pounds
Construction and Design
The LaFerrari Radio Remote Control Model is a 1/14 scaled down design of the million dollar LaFerrari by Ferrari. It has a sleek design and a bright glossy red body. Developed using state of the art technology this hybrid remote control car has butterfly doors that fly open, a feature that leaves you feeling like a boss. The car has a stylish finish, with a V12 engine and electric motors.
Pros and Performance Accuracy
You can drive this RC car in the forward, backward, left, and right
It can go upto a speed of about 10 mph
It is battery operated
It comes with head and tail lights, that allows you to race through dark paths
The scissorlike doors of this LaFerrari open just like its full size version
This model has great safety features. It comes with an independent spring suspension system that enables it to endure bumps without causeing any damage
The plastic tires make it easier for the car to drift and make sharp turns, which fills you with the raw thrill of street racing
Just like the steering wheel of the fullsize LaFerrari, the radio controller of the RC Car model is ergonomically-designed. That enhances the racing experience and makes it surreal
The remote distance is about 30 feet.
Tips for Safe Handling
Keep the motor cool
Avoid using the RC car on congested roads
Get familiar with the top speed and turn angles in order to avoid crashing or bumping into walls or objects
Regularly inspect the vehicle for loose wiring, dents etc
Lubricate the motor regularly
Check the mesh, slipper gear and shock absorbers
Keep the RC Car clean and free of dust
Approach jumps with tires facing straight
Can It Meet Your Expectations?
As your RC Car zooms past the cars of all other racers, their faces will begin to match the colour of your glossy red 1/14 LaFerrari. Grab your chance to own a LaFerrari within a hundered dollars. Race your friends at 10mph with your swanky new car. You need not worry about those sharp turns or sudden shocks, because this monster has got you covered. Its design is sturdy and durable, made to absorb shocks owing to its independent spring suspension system. This 1/14 LaFerrari is packed with fun and will not leave you dissappointed.
Cost Considerations
At just $32.92 ,the 1/14 LaFerrari Radio Remote Control Model Car is a promising buy. It is as close as you can possibly get to the real LaFerrari for a price like that. This battery operated, hybrid remote control model promises durability and sturdiness along with highspeed. In addition to that, it has doors that fling open tracing its origin to the original fullsize LaFerrari.
Checkout The Following Radio Controlled Cars As Well: