If you are looking to explore the hobby of Remote Control Racing cars then this model is perfect for you. It's flexible and reliable features are packed with fun and adrenaline and promise an unforgettable racing experience.
There is little that you can imagine, that this RC truck cannot do. Taste the ruggedness with an all new Traxxas RTR 1/10 Rustler, the number 1 selling 1/10 stadium racer. Take over the track with its powerful modified 550 motors, XL-5 ESC and Torque-Control Revo-spec slipper clutch. This Traxxas Rustler is down in the dirt with its ability to overcome anything in its way, be it puddles, snow or the rain. Experience the aggressive thrill of raw racing as you unleash this monster on the streets.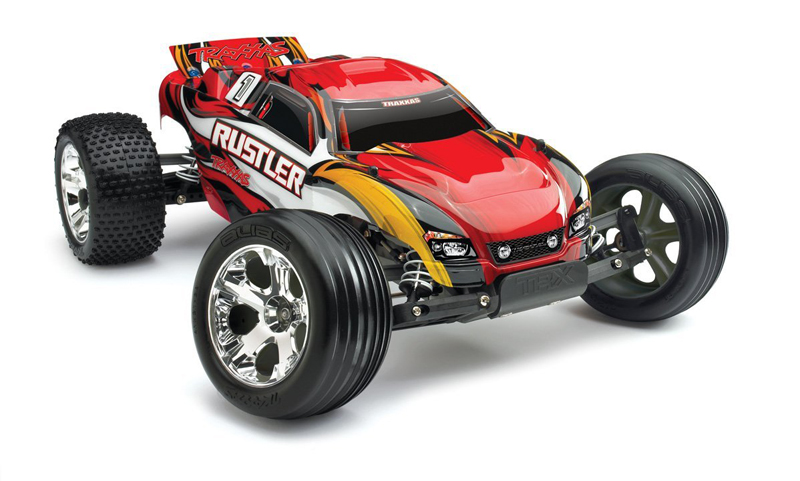 Specifications
Product Dimensions: 17.5 x 13 x 7.5 inches
Package includes: Car, Remote Control, Battery
Assembly not required
Weight: 7 pounds
Titan 12-Turn 550 Modified Motor
Speed: Up To 35 mph
Waterproof
Can be driven in mud, snow, and water
Powered by 7-cell NiMH battery by Traxxas that uses ID technology
XL-5 Electronic Speed Control
12-volt DC 4 amp charger
Torque-Control slipper clutch
Steel Gears
Construction and Design
Rustler boasts of a ProGraphix body available in a variety of colors. The body looks stunning with decals and all-star wheels. It is fitted with lugs on rear tires and the front tires are ribbed. Originally designed for nitro RC cars capable of 65 mph+ speeds, these tires provide more than enough traction for this truck. The truck is pre-assembled and ready to run. The vehicle is also easy to repair and customize due to easily available replacement parts and upgrades. The Rustler has high durability and is protected against bumps and shocks, making it suitable to be driven on uneven tracks. All vital internal components are waterproof and sealed.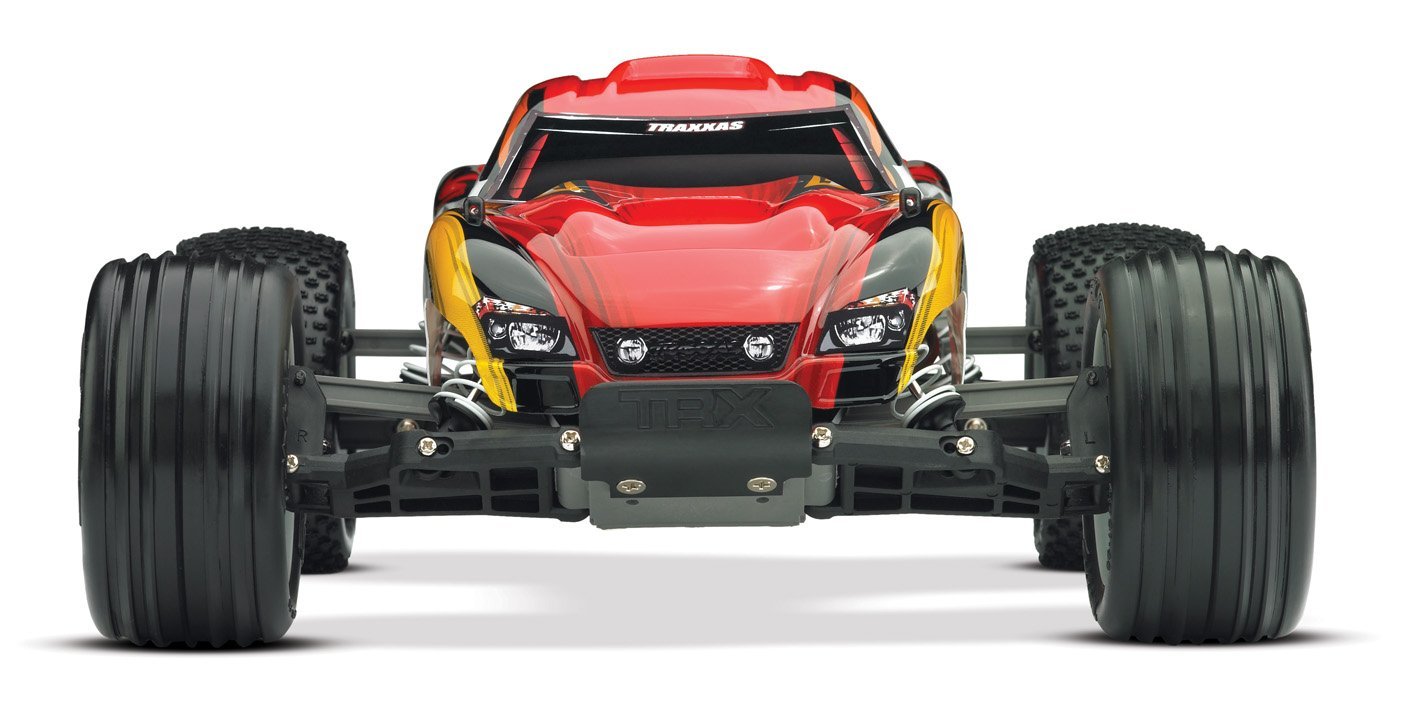 Pros and Performance Accuracy
4-amp DC Peak Detecting Charger charges the car at a really fast rate.
The best part about this vehicle is that it is waterproof and is suitable to drive in rain, mud, and snow. The Rustler is more than equipped for off road racing. Weather and rocky paths cannot stop you from tearing up the streets with this RC Truck.
With full suspension, you can easily control it over the uneven or rocky terrain. It has excellent brake and reverses features that will bail you out in case you get stuck.
Powered by a seven-cell Ni-MH battery, the Rustler can rip open the roads at a top speed of 35mph. The Rustler's powerful Titan® 12-Turn modified 550 motor enhances the off road action, delivering long lasting performance; it remains cool and doesn't require maintenance often.
The smooth XL-5 ESC allows high-frequency control and high current handling. It is also waterproof. Featuring multiple drive profiles, detection of low voltage, gold-plated connectors, protection from a thermal shutdown, and incredibly low resistance, the Rustler exceeds its expectations and puts you in charge of every movement.
Torque-Control Revo-spec slipper clutch gives you great grip and accuracy allowing you to operate smoothly and adjust precisely while controlling the traction.
The Rustler is suitable for racers of all experience levels, even for beginners. The training mode at 50% throttle power allows you to sharpen you controlling skills until you are ready to unlock the full potential of its powerful motor.
The remote is light weight and has a pistol like design including a trigger and a steering wheel. The remote is designed in a way to ensure precise and easy control.
Tips for Safe Handling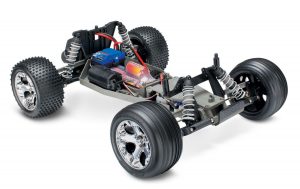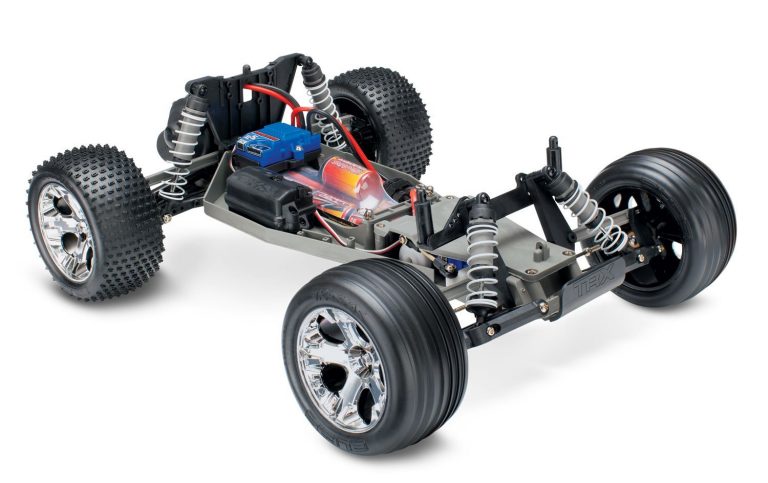 The Traxxas Rustler requires maintenance on a regular basis in order to give its best performance. The following things should be taken care of for the safe handling of the Rustler:
Check the vehicle for damages such as cracks, dents, loose screws, leakages or other wear and tear
The motor, battery, and speed control get heated up so be cautious while handling them.
Check the battery conditions, wiring, speed control and tightness of slipper clutch.
Check the operation of the radio system and shock absorbers.
Clean and lubricate the motor after every few runs (10-15) and maintain full oil level in the shocks.
Keep the vehicle clean and dust free.
While storing, detach the batteries from the vehicle and the transmitter.
Can It Meet Your Expectations?
The best selling "Traxxas RTR 1/10 Rustler" promises to deliver durability, high performance, speed, and power everywhere you go. What is more, you can choose to bring it to life anywhere you like, as the Rustler fears no weather or obstacle. It is one of the fastest, ready to race(or RTR) monsters that will leave you ruling the tracks. The Rustler has a long life due to easy repair ability. Easily modify as per your skill level to make it a reliable companion for the long run. With intimidating looks and a rugged built, there are few trucks that come close to the Traxxas 1/10 Rustler.
You Can Also Try These Amazing Remote Control Cars As Well: