In my naïve childhood, I had a strong fascination for best rc cars as it gave me a distinct feeling of joy. I went running behind the car from one corner of the house to the other with the remote in my hand,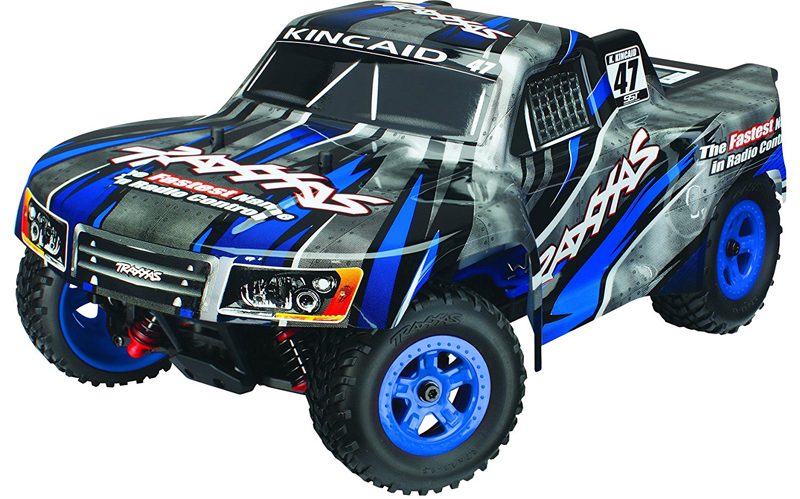 Specifications
The chassis is molded with composite nylon which makes it super durable and best for off roads.
It runs on four wheel shaft motor with a radio signal of 2.4GHz powered by 7.2V six cell NiMH battery with a grip like a gun and the steering is electronic which makes it modern at the same time.
All the track and all maintenance equipment are included in the box.
As it is waterproof so you don't have to worry about water puddles and now you don't have to sit in the room in rainy season get out and get dirty. Sounds fun right?
The whole package includes a RTR Latrax SST Stadium Truck with its modern 2.4GHz Radio Controlled brushed motor, 4 double "A" batteries and an instruction and safety manual.
The weight with the battery included is 739 gram which is pretty light and it has a ground clearance of 15mm which is exceptional.
Construction and Design
The tires are made with soft material but at the same time, it has this aggressive thread pattern printed for better grip in off roads. Wheels have five spokes and an outer diameter of 35mm. The body is made with Pro Graphix and painted with professional care. The shocks are in a position of (F/R) 3 tower and 2 arms. All the wheels four of them are independent and there are two chambers on the knuckle for better stability. The steering is a dual bell crack and the chassis is molded and composite in design which is supported by the 4WD shaft. It has differential gears and the bearing has plastic brushing on them to make the weight light.
Pros and performance accuracy
There is no way anyone can ask questions about the performance of this beast. It is super smooth while handling and turning edges. The shocks are oil filled and the coil springs are hard and sturdy like they should be. As the truck is well balanced so it can run on any terrain surfaces and stick to the land while jumping from any ramp or taking small bumps. The bumpers of front and back are very flexible and all the linkages are fixed though you can change the position of the camber slightly. All the plastic shocks are oil filled so you get better suspension like premium racing cars. You can choose from three power modes-Training, Normal and Racing as per your experience level. The radio signal is of 2.4 GHz and there are no antennas in front so that it becomes more manageable. The SST is waterproof you can sit and relax and submerge it in puddles and try that off-road feel like video games.
Tips for safe handling
We know you can't wait for getting your hands into the remote but there are few things you should keep in mind to handle things better.
Operate with care and clean it from dirt and mud after using.
Don't play in a busy street full of people as it is blazing fast people can get hurt and sometimes can cause car accidents.
As it is controlled by radio some magnetic imbalances can be there when you go near strong magnetic fields so watch out for that.
The motor can become hot after using for hours, don't panic wait and let it rest for some time and give it to cool down.
Try pointing the antenna to the vehicle direction for better controlling and signal.
The transmitter must be turned on first and off last so that your car won't receive signals from another transmitter nearby.
Can it meet your expectations?
Trust me it is going to be your new hobby soon. The acceleration is blazing fast which helps it to reach to its top speed in few seconds and that too in lesser time in comparison to other cars in the same price segment. It can do 180 turns like a ball you will be amazed by the stability and control at the full throttle also. If you want to test its power then you need to pick up the car from the grass and put it in a muddy area and see it fly. Making it jump from a high ramp doesn't decrease its speed and acceleration. The main thing that makes the landing so smooth is those oil filled shocks.
Cost considerations
Only at $129.99, the LaTrax SST is one of the best traxxas radio controlled cars. It's steal beating all the other competitions in the market with its highly advanced component design. With a mixture of steel and as well as the use of plastic in right places makes it a perfect choice for fast reckless drivers. You can also upgrade some parts from suspension to tires or you can choose the standard components from the box itself. Get ready to drive recklessly and fill your thirst for speed but now you don't have to pay a fine for breaking the speed limit or put on the helmets.
You Can Also Try These Amazing Traxxas Radio Controlled Cars As Well: