Almost every one of us while growing up has handled a teeny, disappointing version of what were then known as remote controlled cars. All our whims of controlling a mega bad boy whooshing about in high speeds on rough terrains without its tires popping out or getting slushed had been unrealized all through our childhood. But not anymore. Behold and welcome the ToyPark 2.4GHz Remote Controlled Racing Car High Speed Vehicle with Spring Shock Absorbers that are definite to take you into a trance with its amazing technicalities and well thought out designs.
Powered by Lithium batteries and super powerful GP brush 390 motors, its accelerating energy is mind-blowing and nothing like anything before. It races to up to a speed of 20 km/hr. The 2.4 GHz Pro Mechanisms enable you to drive around more than one car in the same area without any interruptions or interference to up to 45 to 50 meters around. The alignment of the frontier wheels can be adjusted too. The most amazing feature is by far its Four Independent Suspension Springs that make maneuvering easy yet packs the body of the car in a shock absorbable cover to effectively cage the electronic components of the car.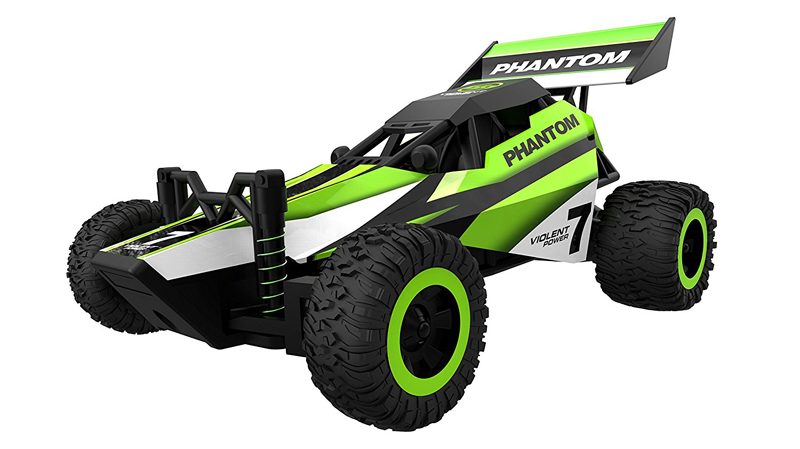 Specifications
This crazy toy lets you attain a whooping speed of 20 km/hr. Something entirely fictional and possibly thought upon as just a dream for a toy remote controlled racing car.
There are two tough colors in which you can flaunt this baby out on the streets. Green and Purple. Both are equally appealing to the eyes and give the car a remarkable glow.
Yes, you can actually control this superb remote-controlled car from a distance radius of 45 meters to 50 meters which is again an unrealistic thing brought to reality by the ToyPark Makers.
A battery of 3.7V/90mAh/HA10200 has been included with this remote-controlled toy car.
A Controller Battery of 4 x 1.5 AA will be required to drive around this madness. This has not been included along with the package and you will have to buy it.
The original battery offers a playing time of up to 8 to 10 minutes exclusive to certain playing conditions.
2WD making the car move forward, making it go backward, making it turn left, making it turn right, putting on the brakes to bring the car to a halt, and making possible full scale remote controlling are the many options provided by the makers over here.
The product dimensions are 12.8 x 8 x 6.3 cm.
While the package dimensions are 26 x 7.5 x 20.5 cm.
The product which is the car weighs about 0.49 Kg.
While the package weighs about 0.54 Kg.
The tires are made from soft, elastic and flexible rubber from only cordon bleu PVC material. The tires make possible high friction, and amazingly strong skid resistance and an equally commendable grip.
Body of the car is made using nylon along with ecofriendly PVC.
The highest bounce test conducted was up to a crazy height of 20 meters.
Four independent springs inside the body enable shock absorbing properties that in turn protect the inside features of the car.
Lithium powered battery and a Herculean GP Brush 390 motor ensure outstanding performance.
The package of this car includes the following things- 1 remote controlled car, 1 remote controller, 1 rechargeable battery, 1 platform, 1 charger, 3 roadblocks, 1 screwdriver and 1 user manual.
Construction and Design
The high speed radio controlled car is constructed in a way to gain maximum applause by its users. Its nylon body is tough and durable while its tires have been made using soft elastic rubber and high quality Polyvinyl Chloride that make them skid free. The Lithium powered motor does wonders to make your ToyPark 2.4 GHz racing car the winner of every race with your friends.
Pros and Performance Accuracy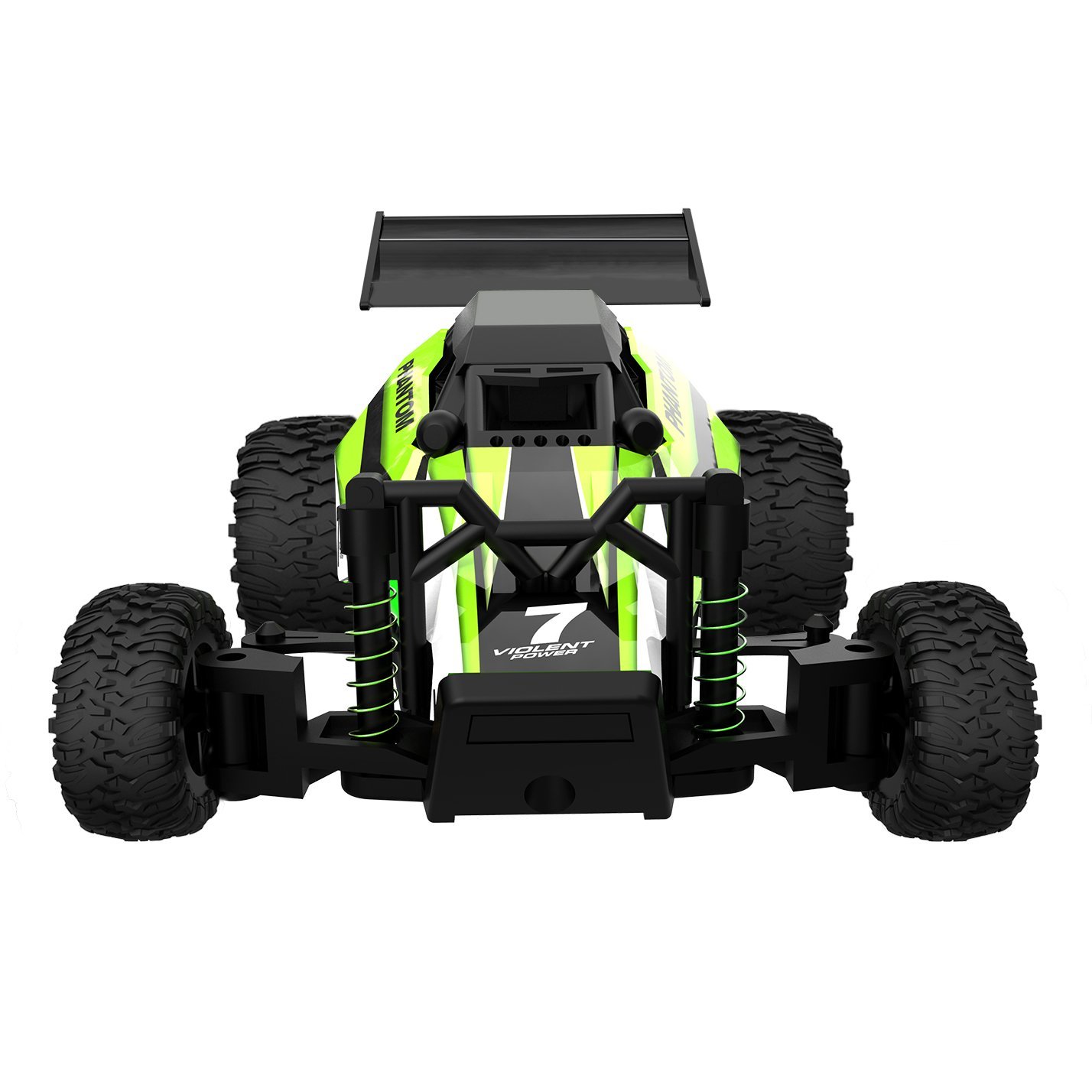 The grip of the soft and elastic rubber tires can be adjusted depending on the road, and this madness can also be driven over harsh rugged terrains.
The tires are made to be skid resistant and high friction that adds a huge plus point in favor of the company. You can drive it whichever way however you want, and the tires will be durable for a long time.
The alignment of the front wheels can be adjusted according to user's wishes.
The body of the car is made using nylon and high-quality environment friendly Polyvinyl Chloride that helps narrow down toys that don't disturb the eco balance.
The remote controller enables full control and makes you efficient to be able to move the vehicle to the right, left, forward or backward from a range of up to 50 meters.
It ranks number 6 in amazon's list of about 210 toy cars.
The exclusive protection armor makes the car resistant to crashes.
Tips for Safe Handling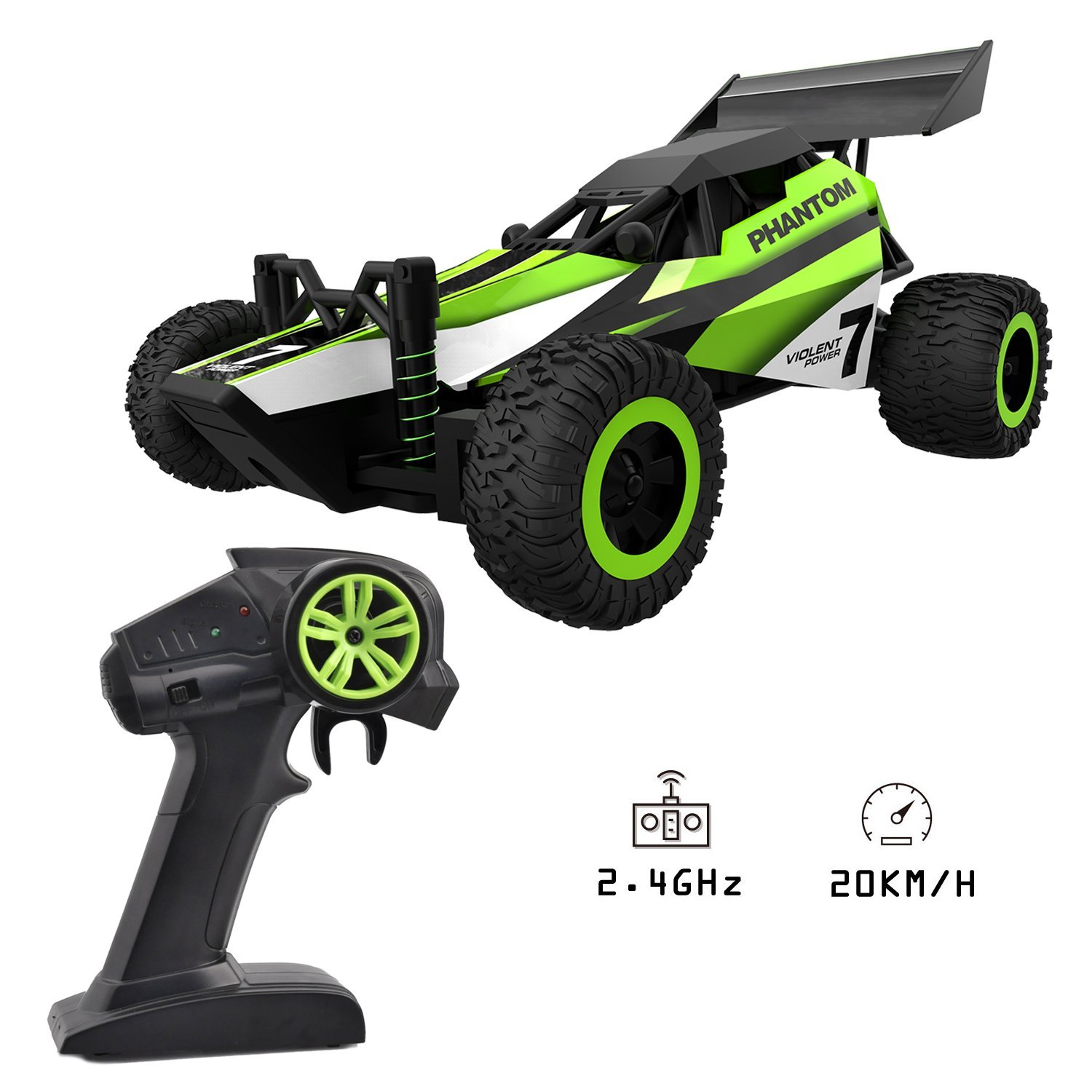 Before using it make sure the battery is completely charged or else make sure its new. Also make sure if the other functions of the car and controller are working.
Avoid places that are prone to fire or sultry high temperatures and water areas to ensure safety and longevity of the car.
Special attention and care needs to be taken while controlling the machine. As if not taken care of, it might get out of control or damaged.
Avoid letting the car go into hands of children below 6 years as it may get damaged.

Can it meet your expectations?
The response time of the car is very quick and it is the fastest mini car you'll ever set your hands on. The remote controller is well equipped to tackle your requirements.
Cost Considerations
With all its features that it displays, and the rough competition that it gives to its peers, cost is another factor that takes you by storm. At around $29, inclusive of a rechargeable battery and controller, this package is the best bet for you.
Some More High Speed Radio Controlled Cars To Try Out: